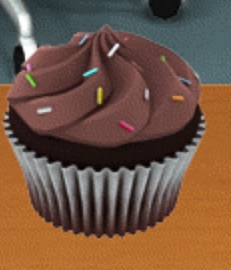 The Cupcake is the first item in Office Jerk. It is one of the few items to be already unlocked.
Appearance
Edit
The cupcake has a silver-ish wrapping and chocolate frosting. It has scattered sprinkles with colors such as white, blue, green, and yellow.
Achievements & Actions
Edit
CUPCAKE REVENGE: When you throw the cupcake on his face twice in a row, he will wipe it off with his hands (gross) and fling it back at you, covering the screen with cupcake frosting for a few seconds.

This is one of 3 actions where the item gets thrown back at the screen, etc. The other are TBA
Ad blocker interference detected!
Wikia is a free-to-use site that makes money from advertising. We have a modified experience for viewers using ad blockers

Wikia is not accessible if you've made further modifications. Remove the custom ad blocker rule(s) and the page will load as expected.